Joined

Jul 22, 2021
Total Posts

59
Total likes

0
Location
Hi Everyone,
This is a continuation of multiple separate posts I've made over the last year or so related to:
1) low compression, 2) bike dying at stop when engine was hot, 3) disparity in cylinder temps not fixable with carb adjustments, and 4) engine noises at idle.
After trying each of the easy fixes suggested by all the guru's here, I wasn't seeing much change in the bike's behavior. One common suggestion previously was to address the compression problem... so I broke it open today to investigate further.
The engine has 10k miles. it was given to me in pieces as a project bike.
PO said it had been sitting for 10years with unknown engine condition.
this is my first bike, and I have MANY questions for you all:
Regarding Noises at Idle:
I think it was ancientdad who suggested a loose/malfunctioning tensioner spring, and he was right.
I was never able to get it to tighten up externally.
Inside, the chain looks like it has been grinding into the cylinder head, with a deep enough gouge that it appears to be binding the spring mechanism.
pretty sure this tensioner mechanism needs replacement, correct?
Also, assuming I am able to deburr the hole that the tensioner spring is sitting in (that is causing sticky behavior) do I need to address the ground-away & missing material caused by slack chain hitting the head? or leave it?
Also, how typical is this tension mechanism idle sprocket wear?
The nubby teeth here looks like it needs replacement, but I'm not sure how tall they are supposed to be. thoughts?
Cylinder head has dark stain near Left Cylinder (top of the photo below). Does that suggest headgasket blowby?
And what is going on with Right Cylinder exhaust valve tan coloring? is this evidence of overheating?
Its worth noting was that this was always the "hot" cylinder... 30-40deg F higher than Left.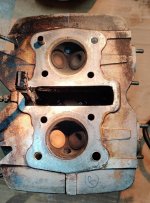 Regarding Compression - the cylinder walls are rough on both. I assume this was the source of bad compression although I was expecting much much worse given the atrocious compression readings (~100-110 psi). note, the lighting in the image makes it look much rougher than reality. I will try honing first, i think.
Rings are intact / not broken. Pistons appear fine.
Other than dimensional checks called out on each in the FSM, what else should I look for to determine if they need replacement?
I know that's a lot all at once!... but as usual - thank you for your help!